The latest Composer firmware can be downloaded here.
To update printer firmware you can use Anisoprint Aura. Install and launch Aura.
If you connect Composer to your PC for the first time you may need to install the USB driver. To install the driver unzip the archive and run dpinst-amd64.exe if you have 64-bit OS or dpinst-x86.exe if you have 32-bit OS.
Connect the printer to the PC by USB cable. In Aura main menu open Tools > Composer firmware update.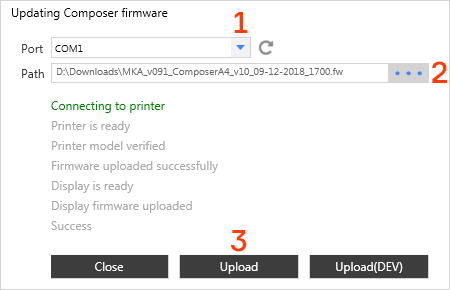 In Composer firmware update tool:
In Port list select the COM port of Composer. If you connected Composer to your PC for the first time, it will usually be the last one. If the list is empty or you can't connect to printer using any listed port, make sure, that you have installed SUB driver mentioned above.
Click on "…" button near Path field and select Composer firmware file.
Press Upload button.
Wait until all lines including the last "Success" button become green.
Do not disconnect or turn off your printer during firmware update process.